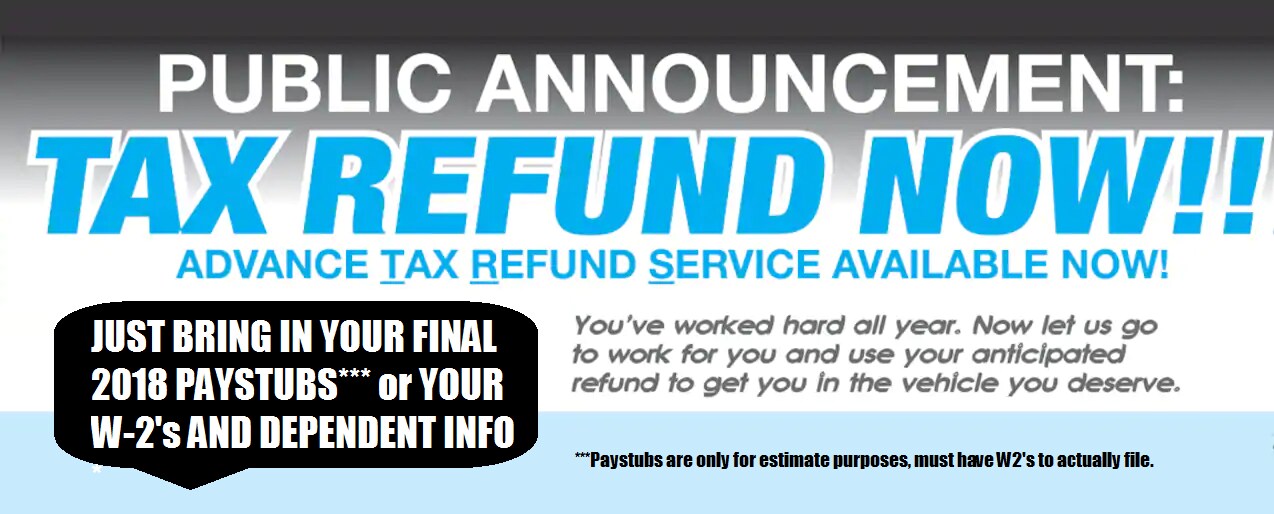 YES, Auto Credit has the longest running most experienced dealer refund service program in the area.
Let our professionals put this program to work for you and get you the maximum refund, with minimal fuss, with *no out of pocket costs, and for those that qualify – a same day/next day advance of up to $4000.
Use your refund to help purchase/finance a new vehicle.
Use your refund to get needed service or body work done.
Use your refund to bring an account current or payoff an account.
And it's so easy. Just bring in your final 2018 paystubs for any jobs you had for the year, any 1099 estimates, any unemployment collected for the year, and your dependents information (and any other misc documentation you may have deemed necessary) and we can do an estimate for you.
As of Jan 7, 2019 live filing is here. Just bring in all your W2's, 1099's, dependent info, student loans paid, college enrollments, and any other relevant tax documents and we will do the rest. No out of pocket costs, standard filing fees come straight out of your federal refund, the amount you pledged on your purchase or on your account is retained by us, and you receive the difference as the government releases it. We file your state or multi-state returns as well. Meanwhile, for those that qualify, refund advances are available this year up to $4000.00.
[eg. you have a $6000 refund coming, pledge $2000 down to buy a car, and qualify for a $4000 advance. You drive your car today, get the other $2000 part of the advance now, and you will receive the remaining $2000 later, plus whatever you get from the state.]
And, do you have an unusual circumstance such as an "injured spouse claim", well don't worry, YES we can handle that for you as well.
As a TaxMax TRS customer there are additional benefits and TaxMax's pledge to you. For more info on the program, please contact us today.
*No out of pocket costs. Competitive standard and advance filing fees are deducted from your federal refund.
**Certain exclusions do apply: All filings are subject to IRS and State Tax Dept rules and regulations. Joint returns cannot be filed by only one party. Filers must not have any pending offsets including government claims and child support collections.